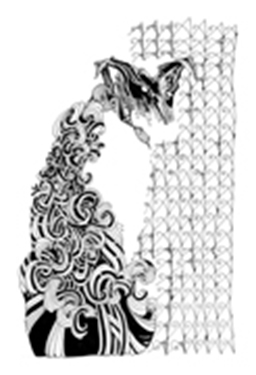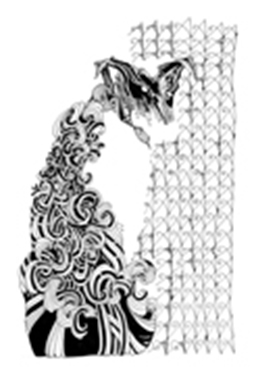 Graphic designer Carole Ohl created magical Zentangle-style dog illustrations for I HEARD YOUR DOG DIED: Imaginings for Those Who Have Lost a Pet. Each of the dogs was a beloved pet that touched its family's life with unconditional love. This is the story of Shaba whose portrait leads off Chapter 5.
---
Some dogs are our playmates.
Some dogs are our soulmates.
Then there are dogs that are both. Shaba was one of those special dogs.
Her adopters journeyed from Connecticut through New York City traffic to the North Shore Animal League on Long Island hoping to bring home their perfect pet. They sat in the League's spacious lobby and waited as dogs that fit their description of that perfect pet came out to meet them. Several likely candidates nuzzled and pawed but their hearts didn't flutter until Shaba greeted them. The silky-haired black dog was a good size and, though a tad shy at first, was poised about meeting these strangers. They liked her calm presence. And took her home.
Shaba relished every opportunity to experience new things. No matter where she was, she engaged with the people she was with and with the environment around her. She loved inhaling the scents and sights and sounds of nature whether at the beach or at the farm or at friends' homes. She loved imitating her wolf ancestors, fiercely protecting her territory from groundhogs and raccoons. She never met a tennis ball she didn't LOVE. And when something caught her attention, she had great resolve. "See that? Look at that! Let's DO something about that."
Shaba's humans came to see her as their teacher in the game of life. Her actions always seemed to send the message: "Life is juicy! Live and love it one day at a time."
Shaba's reaction to life's bumps and bruises sent a message as well. She met every challenge calmly and serenely, accepting and observing, always looking for the opportunity hidden within the experience. Her attitude spoke volumes:
"You can do this."
"You can get through this. Be brave, figure it out."
"Keep your eye on the ball. Stay focused and let distractions melt away."
"Set high standards and meet them."
"Why are you whining? Suck it up and move on."
How could the people around her do any less?
As Shaba aged, her life changed. Her humans traveled more and a frailer Shaba waited for their return while spending time with a family that included two small boys and two cats. How would this elderly dog fit into this busier, noisier environment? They could have predicted Shaba's outlook. "What? Me worry?" She adapted to the change with equanimity and embraced her new life experiences. She slept with the boys, listened to them read, and met them when they came home from school. She discovered a new part of herself and left a younger generation with lessons about living, aging and dying.
As Shaba continued aging, there were decisions to make. Was it time? In her way, Shaba made it clear that she wanted to experience just one more spring, to inhale one last time the sensuous, organic smells of the earth as it thawed and warmed, reeking of the potential for renewed life.
And that was her final message. Life evolves as cycles within cycles. New life blossoms, matures and fades. "But look! Here it comes around again!" Shaba mentored to her very last breath.