A COMFORTING READ FOR ANYONE WHO LOSES A PET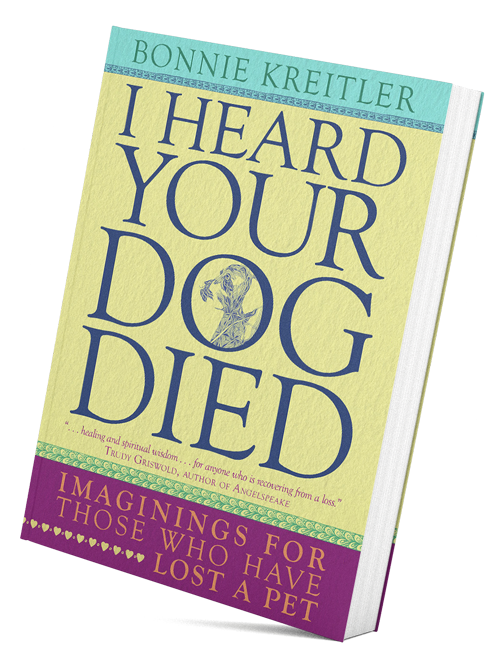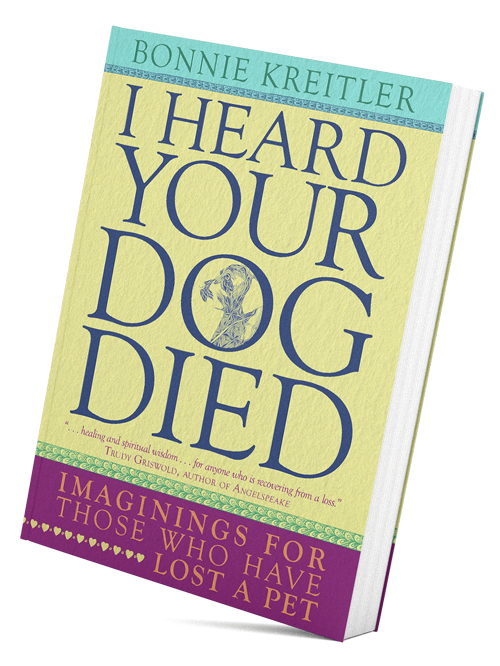 I Heard Your Dog Died:
Imaginings for Those
Who Have Lost a Pet
What do you say to a child when their beloved pet dies? When a youngster's dog tragically, a caring neighbor comforts the youngster by imagining the pet as the central character in a Big Play. Their friendship deepens as, one-by-one, they work through the roller-coaster emotions of grief. And their story ends in a surprising way that neither quite imagined.
A healing parable for anyone who loses a special pet
Ideal for families to read and discuss when a pet dies
Endorsed by spiritual coaches, grief counselors, veterinarians, librarians, and grandmothers
Perfect gift for anyone who has lost a furry soulmate
Offering quick comfort to the heartbroken and illustrated with magical portraits of real-life dogs who touched their owners' hearts in special ways, this short book unfolds through dialogue alone to encourage readers to imagine the scenes as suits their personal life experiences of loss.
Through its imaginative perspective and a gentle exploration of the stages of grief, I Heard Your Dog Died is a healing story to lift the spirits of anyone age 9 to 99 feeling heartbroken at the loss of a dear companion. Read it and weep…for joy!
PRAISE FOR "I HEARD YOUR DOG DIED"
An inspiring and charming story filled with healing and spiritual wisdom. I highly recommend this helpful book for anyone who is recovering from a loss.
Trudy Griswold
Author of Angelspeake
Grief for a beloved pet is just as significant as the loss of any dear friend. Having grieved three months when our golden retriever died, I have experienced the need for comfort at such times! Here indeed is a great treasure to help you through the difficult days after the death of a close animal friend.
Dr. C. Norman Shealy
Holistic Pain and Depression Specialist
I think this book could be emotionally beneficial for many age groups, but certainly for pre-teens and young adults. There are bereavement storybooks for young children and…detailed books for grieving adults, but not many books for people between. The Imaginings in this book may help fill the gap and soothe heartache in a way not previously written about.
Karen Shaw Becker, DVM
Veterinary physician
I Hear Your Dog Died is a beautifully crafted, multi-dimensional exploration of the concept of death to help children understand and process loss – and life! Kreitler delivers her healing messages in a unique and creative way, always reminding us that at the heart of everything is love..
Lisa Jacoby
Professional Development Coach/Consultant
Bonnie's story guides the reader gently, lovingly and imaginatively along a path that starts to heal the feelings of sorrow and loss that occur when a beloved pet dies. She also addresses more complicated emotions like confusion, guilt, and anger which, once resolved, allow those grieving to truly move on. I love the artwork and one's ability to add color to the work as an additional piece of the healing. A great book for children as well as adults!
Kate Kennedy, EqTPM
CST Equine Muscle Therapist
This book presents a unique approach to the death of a pet (or anyone else) from a strong cognitive perspective that balances emotions at the same time. Using this process to look at death from a very active and specific frame of reference promotes the transformation of strong and heavy emotions into sweet, warm, uplifting, and loving memories in a moment's time. While designed as a children's book on grief, this is a very valuable resource for all those who grieve deeply … which may very well be all of us.
Dory Dzinski
Licensed Professional Counselor, Trauma Debriefer
For aching, tender hearts facing the loss of an animal friend, I Heard Your Dog Died invites deep understanding in sunny, digestible terms. There is kinship in the web of all things. Certainty in the whispers of heart. Seeds of possibility in the mind's eye. This story skillfully encourages moving through grief with baby steps. The light of wisdom soothes. Hope glimmers and beckons. The hardships of earthly impermanence give way to an empowering spaciousness, calm, enthusiasm and generosity. Uplifting!
Durga
Quantum Breakthroughs: Small Adjustments, Great Transformations
What do you say to a child whose dog, their best friend, is fatally injured by a car as the youngster watches? Confronted with this dilemma, a caring neighbor reaches into distant memories to recall a story of life and death imagined as a Big Play. Together the pair explores questions about why bad things happen, feelings of blame and guilt, ghost dogs, and animal souls. As anger shifts to acceptance, the youngster learns how to let go of hurt, honor the old dog, and imagine a future with a new pet. But neither neighbor imagines the surprising end of this journey through grief.
With magical zentangle-style dog illustrations by Carole Ohl, the story unfolds through dialogue alone. Author Bonnie Kreitler leaves the genders and descriptive details of the child and the adult to her readers' imaginations, inviting them to participate in creating the storyline in ways that reflect their own experiences of living, loving, and dying.
Unique, original, insightful, compelling, extraordinary, "I Heard Your Dog Died: Imaginings for Those Who Have Lost a Pet" is a very special, thoughtful, and thought-provoking read from beginning to end. Although a work of fiction, "I Heard Your Dog Died" has an undeniable resonance with real-world experiences with children and their families who have beloved pets.
Mary Cowper
Reviewer, Midwest Review of Books
Great book for adults and children. So much valuable insight that we can use in life.
Marlene Pero
Librarian via NetGalley
Some books come to you for a certain time in your life. This is one of those books. This is an exceptionally written, beautifully crafted book about grief for our animals and what it means to us. If you have loved animals through your life then you have experienced great loss. This book is for all of us that love and have lost our beloved animals. It's endearing, heartfelt, and infinity-touching. Through these pages, you will find your own grief and feelings of uncompromising grief validated. I urge everyone grieving the loss of any pet to read this book. I have not lost a dog but my 19-year-old cat and this book helped me cope with her loss. I highly recommend that all grieving a pet loss to read this important work on grief.
L. Reed
NetGalley
This book helped my grandchildren so much that I cannot thank you enough for writing this book. They would not stop crying and did not know how they would be able to go on. But after reading the book it helped so much that I am keeping it handy for other things that they cannot handle. It is very well written so that children can understand and learn. I would recommend it to others who are in this situation.
M. Weimer
NetGalley
I cried for every pet I ever lost. But it was a good cry. Brilliant story to help comfort yourself after you lose your best furry friends (dogs or cats or whatever).
L. Phillips
NetGalley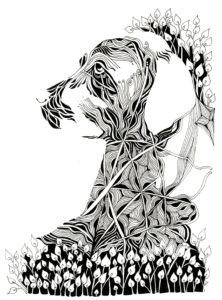 Sadie is one of 12 dogs whose stories and portraits are featured in Rambling Dog's upcoming PET JOURNAL with Stories & Coloring Pages.
SIGN UP for our newsletter now to read Sadie's incredible rescue story and get a full-size coloring page of this beautiful retriever. Get a SPECIAL LAUNCH WEEK DISCOUNT when the Pet Journal comes out SOON!